13/02/12 13:14 Filed in:
By:larm
CCAP and Great Moments BY:LARM 2012 - OSLO
This week we are joining forces with our friends at
Great Moments
and Great Songs to represent our growing roster of both local up and coming talents and established acts at
By:larm
in Oslo
We are looking forward to checking out a lot of great live acts, meeting old friends (and making new friends), and hopefully doing some business while we´re at it. We will be participating in «Export Speed Meetings» hosted by By:larm on Friday, and we´re as always available for a cup of coffee / pint of beer and a chat to discuss mutual beneficiary opportunities. You´ll find our contact info at the By:larm delegate database (or just send us a mail at tom at ccap.no)

A few bands from Stavanger to check out at By:larm:


SKADNE KREK
Friday 9:30 PM Victoria
Saturday 11:00 PM Herr Nilsen


SLIM B & HORVEI THE GREATNESS

Friday 8:30 PM Sub Scene
Saturday 11:00 John Dee


OVERTHROW

Friday 11:00 PM Revolver
Saturday 9:00 PM Rockefeller Annex


KVELERTAK

Saturday 10:00 PM Folketeateret


By:larm flyers. Please ignore the Soundcloud link on the flyer, use the player above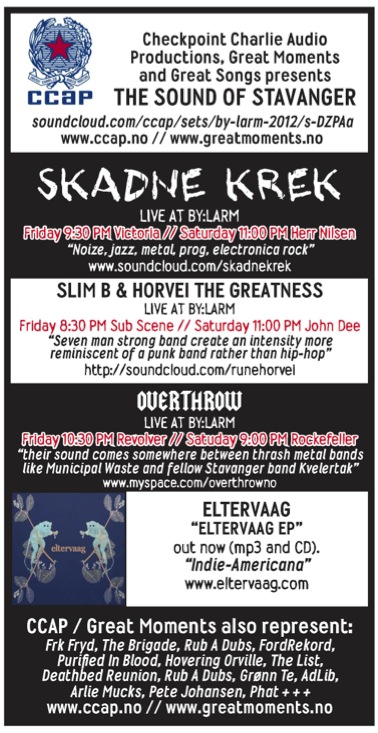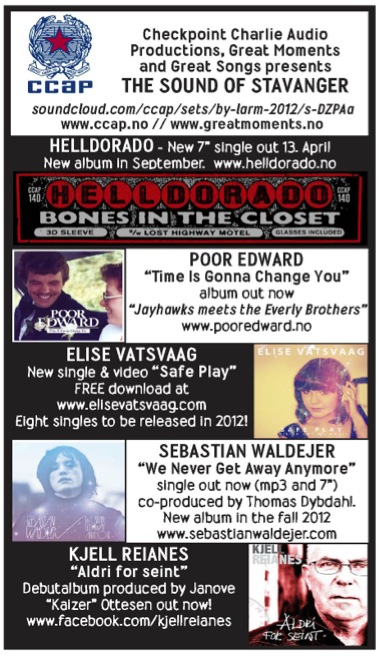 10/02/12 11:20 Filed in:
New Release
| Elise vatsvaag
ELISE VATSVAAG - «Safe Play» - FREE SINGLE!


Today
Elise Vatsvaag
launch her new project
«This is not my music»
with her first single of 2012:
«Safe Play»
.
Through 2012 Elise will release eight FREE singles on her website
www.elisevatsvaag.com

The 10th of every month a new single will be available for free download, streaming and sharing through her website. Every fourth single will be followed by a EP compilation of the same tracks released through iTunes, Spotify, Amazon etc

Read more about Elise and the «this is not my music» project on her
website
. Feel free to download, share and embed «Safe Play». Extra points for using #thisisnotmymusic on Twitter!











"Safe Play" Official Music Video from Elise Vatsvaag on Vimeo.



Make sure to check out her 2011 single «Ooh La La». The single is also available at iTunes, Spotify, Wimp, Amazon etc