29/03/10 09:22 Filed in:
Christer Knutsen
Christer Knutsen
will be touring as (solo) support for
Sivert Høyem
(Madrugada) this spring. Christer is also a member of Sivert Høyems band. Spring dates 2010:

7.apr, BE, Gent, Minnemeers
8.apr, D, Cologne, Luxor 9.apr, D, Hamburg, Uebel & Gafaehrlich 10.apr, D, Berlin, Luxor 12.apr, D, Stuttgart, Universum 13.apr, D, Munich, 50to1 14.apr, NE, Amsterdam, Melkweg, Oude Zaal 15.apr, NE, Breda, Mezz 16.apr, BE, Brussels, Le Botanique 18.apr, CH, Bern, Bierhûbeli 19.apr, CH, Zurich, Abart Club 21.apr, SWE, Stockholm, Nalen 22.apr, SWE, Gøteborg, Brew House 23.apr, DEN, Copenhagen, Vega / Loppen

Christer Knutsen has for years been active on the Norwegian music scene. As pianist in the band
Tumbleweed
(nominated for the Norwegian Grammys 2003) and as guest a long list of other Norwegian bands and artists releases. Among them Thomas Dydahls "..that great October sound" He was discovered by FRODE Records A&R man, Frode Da Costa Lia, at a concert at the Øya festival 2004. Shortly after, recording deal in hand, Knutsen and the band Sacred Hearts went in the studio to record the debut album Would You Please Welcome. It was released January 2005 to the delight of critics and audiences alike. The first single, No Love #1&2, received heavy rotation on most of the major Norwegian radio stations and was among the top 5 most played music videos on Norwegian music television. The tour following the release was played in front of packed venues in the biggest cities of Norway. March 2006 saw the release of the second album entitled "Grand Hotel". As the debut, it received excellent reviews in most Norwegian press and was also noticed in some European press. Constant touring during the spring and a tight schedule at the summer festivals has resulted in a dedicated following and in excellent reviews. Knutsens musical roots are deeply planted in the American song-writing tradition and the music press was quick to place it in the Americana/Alt. Country category. CK, though, has constantly referred to his music as pure pop music, more in the lines of Big Star than Hank Williams. Sacred Hearts is the band that, live as well as on record, contributes to lift CKs music to yet another level. The band consists of Pål Hausken on drums, Magne Vestrum on bass and Lars Lundeval and Rune Helland on guitar. Magne Vestrum - bass. Lars Lundvall - guitar


Christer Knutsen on You Tube
04/03/10 09:26 Filed in:
Geoff Berner
Geoff Berner brings his klezmer trio to Norway!


"I want to drag klezmer music kicking and screaming back into the bars."

That's the goal of Canadian singer-songwriter-accordion player Geoff Berner, known in Norway for his performances at festivals, on NRK radio, and as support act for Balkan-Surrealist rock heroes Kaizers Orchestra.

In March 2010, he brings his klezmer trio of drummer Wayne Adams and violinist Diona Davies to Norway. These are the musicians who appear on each of his last 3 albums, the Whiskey Rabbi trilogy. This is a rare opportunity to see the full artistic vision: a chaotic, raucous night of drunken dancing.

For advance tickets, and showtime info, contact the venue.


March 3 - Trondheim - Familien

March 4 - Oslo - MIR, with Lasso (elastique)

March 5 - Oslo - MIR, with Lasso (elastique)

Advance Tickets go on sale at MIR Feb. 1!

March 6 - Bergen - Victoria Bar. Get there early! Show starts at 8pm!
Support Act: Pål & hans fantastiske djup-psykologiske ubalanse!
Advance Tix available at venue.

March 7 - Stavanger - Cementen

March 8 - Kristiansand - TrashPop / Charlie's Bar

March 10 - Arendal - Munkehaugen Kultursenter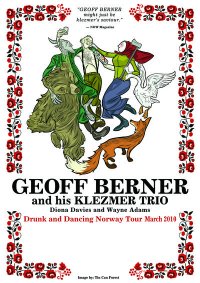 Facebook event
Geoff Berner website