THE BRIGADE - DEAD MAN´S GOLD
Where to find free mp´3, where to buy, where to watch videos, latest news and reviews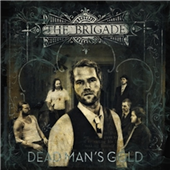 The Brigade site
For a quick intro to the world of The Brigade, check out the latest single and video right here (video click «info», download click arrow):
The Brigade - We All Fall Down by CCAP

Live:

Tuesday 31. August - 11.30 - Food Story, Oslo (short set)
Tuesday 31. August - 22.00 - Last Train, Oslo
Wednesday 1. September - 22.00 - Thime Stasjon, Bryne
Friday 3. September - 24.00 - Martinique, Stavanger (RxR festival after party gig)
Saturday 4. September - 14.00 - Platekompaniet, Stavanger (instore short set)
Tuesday 7. September - 21.00 - Arkivet, Stavanger (acoustic gig)
Lørdag 11. September - tba - Rosehagen, Jørpeland
Thursday 18. November - 22.00 - Kvarteret, Bergen



There is a special offer on the album at
Platekompaniet
this week.
CD campaign
/
MP3 campaign
Quotes from reviews in Norwegain media, translated to english (Scroll down for reviews in Norwegian)
A wide rock'n'roll canvas mounted on musical hooks including Nick Cave and The Bad Seeds, The Doors, 16 Horsepower and Madrugada (...) excellent rock noir"
Tom Skjeklesæther (ABC News)
"The result is often shockingly good songs (...) Right In Front Of You and She Wouldn't Let Me Drown are amongthe best I've heard in years"
Egon Holstad (Nordlys)
"brilliantly executed and thus allowed to enjoy. As a good bourbon in the twilight on a threadbare hotel room. "
Stein Østbø (VG)
"" Dead Man's Gold "is perfect for two uses: a long drive across the American prairie, or a lonely night in a comfy chair with a bottle of whiskey in your hand. For all other uses, the Brigades debut album is just very, very good. All in all, this record is something you think you may have heard before, but so good that one does not feel that it is not worth hearing again "
Tore Friestad (Studvest)
"This is good. This is really good. Dark rock 'n roll which to slips right into the soul and stays there"
Elin M. Dahl (Rockblogg.no)
"Opener" Italian Curse" would fit right in with the opening credits in a violent americana flick by Quentin Tarantino or Robert Rodriguez (...)"
Frank Johnsen (Bergens Tidende)
"With lyrics abut life on the dark side, this is a very listenable album (...) The Brigade manage to stand out from the crowd. Much thanks to (vocalist) Fiskå, but also his team of high quality muscicians "Sven Erik Loberg
(Hamar Arbeiderblad)
"Dark and powerful cowboy-rock. This is restless music for riding into the sunset. "Take care of your mother, son ..." "Per Kristian Hansen
(Østlendingen)
"Sometimes it smells Nick Cave, often Madrugada, sometimes more country or folk. The single "We all fall down" is an example of the bands potentional, with its catchy melody and creepy mood. "Robert Hoftun Gjestad
(Aftenposten)

Reviews (in Norwegian only).

Vi har samlet utdrag av anmeldelsene som har kommet på The Brigade albumet i norsk presse så langt:

Mørkt og bra
"(…) dette er mørk rock dynket i bootleg-sprit, sentrert rundt herlige temaer som død, levd liv, outsidere, drap, knuste pikehjerter og brune murerflasker. Resultatet er tidvis sjokkerende bra (…) Det er også noe veldig filmatisk, sørstatsaktig over denne mektige og southern gothic-dynkede musikken, og den hadde glatt glidd inn i den glitrende Jim White-dokumentaren «Searching for the Wrong-Eyed Jesus». Låtene Right In Front Of You og She Wouldn't Let Me Down er noe av det beste jeg har hørt i år."
Egon Holstad, Nordlys
(...)Dette er bra. Dette er virkelig bra. Mørk rock`n roll som sklir rett inn i sjela og fester seg. Melankolsk og skittent. Perfekt musikk på kalde høstkvelder hvor brennende stearinlys gir musikken riktig stemning (...)The Brigade har skapt sitt eget uttrykk og har et flott særpreg. Dette er en solid debut av mannfolk som har vært i gamet lenge. 10 sterke låter på et velprodusert album. Jeg digger musikken. Jeg digger skiva. Det er bare en ting å si; Løp og kjøp – dette er musikk for høstkalde sjeler!
Elin Mariel Dahl – Rockblogg.no
Utmerket Rock Noir
Googler du «Dead Man's Gold» havner du på en westernfilm fra 1948. Sannsynligvis svart/hvit og befolket av et knippe bad guys og muligens bare en good guy, som likevel ordner opp. Godt over 60 år senere rir seks karer fra Westen (den norske) inn på lerretet. Et widescreen rock'n'roll-lerret som er spent opp på musikalske knagger som Nick Cave And The Bad Seeds, The Doors, 16 Horsepower og Madrugada. (...) I front for The Brigade er sangeren Morten Fiskå, med en stemme så malmfylt at han går både Cave og Sivert Høyem i næringa.
Med på å løfte «Dead Man's Gold» til en utmerket lytteopplevelse er produksjonen til Kaizers-sanger Janove Ottesen og miksingen til Yngve Sæthre. Sammen sørger de for besnærende dynamikk i lydbildet og lekre musikalske detaljer som kommer seilende på et massivt og autoritært komp. Spilt av folk som kan sine saker og forstår betydningen av kontrastskaping. Titlene på sangene her gir en god pekepinn på de alt annet enn lystelige temaene som behandles; «Italian Curse», «We All Fall Down» (se video nederst i artikkelen), «Funeral Moon», «Don't Be Afraid To Touch The Ground» og «She Wouldn't Let Me Drown» (...) Klarer ikke å la være å tenke på at denne musikken kan være en refleksjon av at Stavanger mistenkelig ofte havner i nyhetene takket være brutale kriminalsaker? Der folk blir sperret inne, torturert og til og med tatt av dage. Er oljen død manns gull?
Tom Skjeklesæther - ABC Startsiden
Rock noir fra Stavanger. "Stonefish Brigade er nå bare The Brigade, har hyret inn sjefs-Kaizer Janove Ottesen som produsent, tatt platetittelen fra en obskur westernfilm fra 1948 og borer seg dypt ned i et dystermørkt rocklandskap vi kjenner godt her hjemme fra før. For amerikansk ørkenestetikk i et røft tekstunivers mellom døden og kjærligheten er vi av en eller annen grunn flinke på i Norge: Madrugada (...), Emmerhoff & The Melancholy Babies og ikke minst bysbarna i Helldorado (...) «Dead Man's Gold» er tidvis feiende flott utført og dermed lov å nyte. Som en god bourbon i halvmørket på et slitent hotellrom."
Stein Østbø, VG

Nesten Gull
"På «Dead man's gold» tar de lytteren med på en syndig ferd gjennom det amerikanske kontinentet.Her møter de menneskeskjebner som veldig mange er
hekta på religion og alkohol. De mikser country, rock, folk og sørstatsrock til en mørk og skitten legering som bringer dem nært både Nick Cave, Mark Lanegan og The Doors. Det later fett og tøft (…)"
Rune Slyngstad, Fædrelandsvennen
Gotisk Rock
"Kjørerturer langs prærien på Jæren har åpenbart inspirert mange band. Og
når medlemmene i ferske The Brigade hovedsakelig stammer fra Helldorado og The Stonefish Brigade, skjønner vi at musikken som serveres er av det filmatiske slaget. Åpneren «Italian Curse» kunne ha vært anslaget i en voldelig americana fra Quentin Tarantino eller Robert Rodriguez – de vindskjeve tex-mex-riffene, ørkenblåset, voldsmelankolien. Og koblet mot låter og en vokal som gir veldige linker til Madrugada, og til en viss grad Nick Cave, får vi en slags sørgotisk stemming (…)"
Frank Johnsen, Bergensavisen
"(...) Enkelte ganger dufter det Nick Cave, ofte Madrugada, av og til mer country eller folk. Singlen «We all fall down» er et eksempel på at bandet kan ha noe å fare med, med sin fengende melodi og gufne stemning"
Robert H. Gjestad - Aftenposten


"Med tekster som handler om «life on the dark side», er dette blitt ei meget hørbar plate (...) The Brigade klarer likevel å skille seg ut i mengden. Det mye takket være Fiskå, men også at han har med seg et musikerlag av høy kvalitet"
Sven Erik Løberg - Hamar Arbeiderblad
"Mørk og mektig cowboy-rock. Dette er rastløs musikk du kan ri inn i solnedgangen til. «Take care of your mother, son…»"
Per Kristian Hansen - Østlendingen


Etter å ha i embets medfør høyrt gjennom ein del saker og ting eg som privatperson nok hadde halde meg langt unna, er det som å komme heim når eg køyrar i gong plata til The Brigade. Ikkje det at dette er verken banebrytande eller spesielt originalt. Det er berre så fantastisk bra. Bandet kjem frå stavangerregionen og har erfaring frå band der. Og har fått JanOve Ottesen frå Kaizers til å produsere plata. Ved første gjennomhøyring ville det vore enkelt å gi dei merkelappen det nye Madrugada. Men dette bandet er så mykje meir. Og på mange måtar betre. Det er mørkare og tyngre. Med musikalske inspirasjonskjelder som mellom anna Nick Cave og The Doors er premissane for lydbiletet lagt. Amerikanarane Cormac McCarthy og James Lee Bruke er mellom dei som har inspirert dei etter forholda dystre tekstane. (...) Som eg skreiv innleiingsvis. Fantastisk bra!
Firdaposten