13/02/12 13:14
CCAP and Great Moments BY:LARM 2012 - OSLO
This week we are joining forces with our friends at
Great Moments
and Great Songs to represent our growing roster of both local up and coming talents and established acts at
By:larm
in Oslo
We are looking forward to checking out a lot of great live acts, meeting old friends (and making new friends), and hopefully doing some business while we´re at it. We will be participating in «Export Speed Meetings» hosted by By:larm on Friday, and we´re as always available for a cup of coffee / pint of beer and a chat to discuss mutual beneficiary opportunities. You´ll find our contact info at the By:larm delegate database (or just send us a mail at tom at ccap.no)

A few bands from Stavanger to check out at By:larm:


SKADNE KREK
Friday 9:30 PM Victoria
Saturday 11:00 PM Herr Nilsen


SLIM B & HORVEI THE GREATNESS

Friday 8:30 PM Sub Scene
Saturday 11:00 John Dee


OVERTHROW

Friday 11:00 PM Revolver
Saturday 9:00 PM Rockefeller Annex


KVELERTAK

Saturday 10:00 PM Folketeateret


By:larm flyers. Please ignore the Soundcloud link on the flyer, use the player above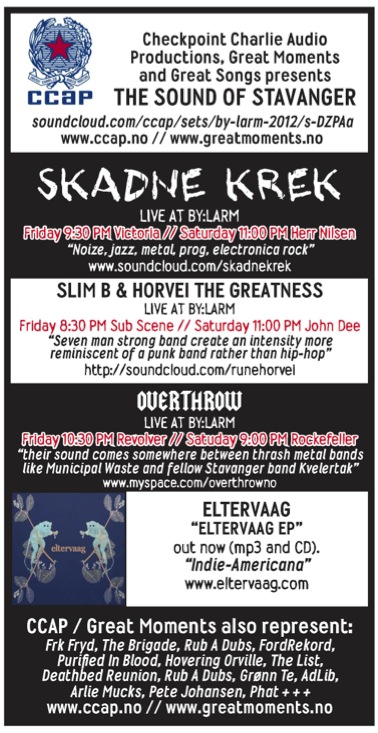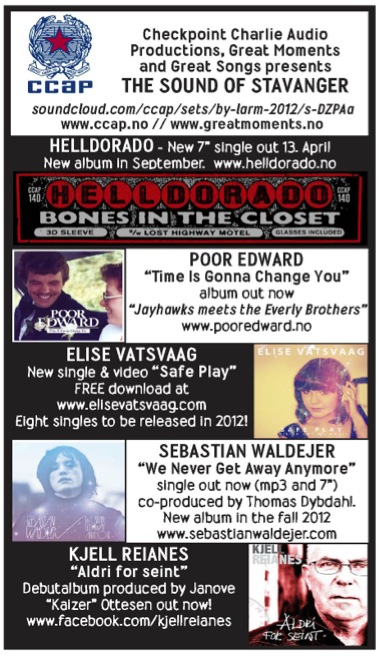 15/02/11 14:35
BY:LARM 2011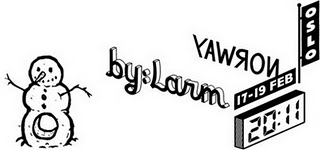 This week we are off to join the
By:Larm
festival in Oslo again
We are looking forward to catching up with old friends and colleagues, meeting new people, learn more about the state of the music business and checking out some of the hundreds of acts playing at venues around town. The Stavanger delegation will be setting up «base camp» at
Food Story
at Grünerløkka Thurday - Saturday 3PM - 6PM. Please join us for a beer, coffee, snack and chat!


Johnny Hancocks will be performing Friday 18. Feb, 8 PM at The Rockefeller Annex and Saturday 19. Feb, 8.30 at Gloria Flames.
Johnny Hancocks
are also this weeks pick at (National Broadcaster) NRK´s Urørt. There is a interview with the band (in Norwegian) and a brand new video at the
Urort site


In addition to Johnny Hancocks we are promoting a bunch of great acts to anyone willing to listen. We are interested in representation: synch, music placement, distribution and promotion. Check out our new playlist, and please don´s hesitate to get in touch for more information. Feel free to share this playlist

CCAP By:larm Promo 2011 by CCAP



16/02/10 11:41
We are looking forward to By:larm in Oslo this weekend. This year we have established a «Stavanger HQ» at
Food Story
in
Thorvalds Meyers gt 61
at Grünerløkka. Please come by and grab a beer or coffee, have a meal (20% discount for delegates and artists), and say hello:


Thursday 18. Feb - Saturday 20. feb
17.00 (5PM) - 20.00 (8PM)


Thursday is by invitations only (get in touch if you need an invite!), Friday and Saturday everyone is welcome

Live program
Friday 6pm
Sebastian Waldejer

Friday 7pm
The List


Saturday 6pm
Christer Wulff

Saturday 7pm Sebastian Waldejer

GOOD FOOD, GOOD PEOPLE, GOOD MUSIC!

If you would like to get in touch or set up a meeting with CCAP at By:larm, please send a mail: tom@ccap.no


19/02/09 08:36
Yes we are of course traveling to By:larm in Oslo this week. We are looking forward to meet collegues, cheking out new bands and having a great time. If you want to hook up keep an eye up for Tom at the international lounge at the hotel. Stavanger will host an event at The Parliament House (Storinget) Friday nights with live music (The Low Frequency In Stereo, Sebastian Waldejer, Mordi and more), tapas, beer and lots of good people. Should be good fun.