25/02/11 12:41 Filed in:
Eric "Slim" Zahl
| New Release
Spelleman (Norwegian Grammy) nominee release
ERIC «SLIM» ZAHL & THE SOUTH WEST SWINGERS - «Daddy ´O»
Eric "Slim" Zahl & The South West Swingers
are Spellemannspris (Norwegian Grammy) nominated for their debutalbum "Daddy ´O" in the Blues category. The album has so far only been available at the bands gigs, through their website and on some digital platforms. The album is now available in CD format through our distributor Cosmos Music Norway and in onlines hops, both physical and digital.

Blues is a narrow term in regards to what this band is all about. Dressed in neck ties, suspenders, and sneaky shoes, these guys are slammin´ every venue they appear at with their performance of cool rockin´blues with touches of jazz and thumpin´ rockabilly.

Eric "Slim" Zahl & South West Swingers - Daddy ´O (mp3) by CCAP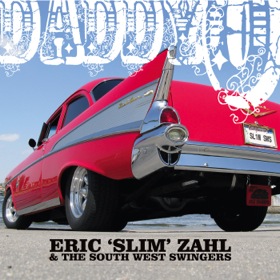 07/02/11 13:24 Filed in:
New Release
NEW TRACKS FEBRUARY 2011!


We are releasing two singles and one album 25. February.
Here´s a playlist with six new tracks for your listening pleasure
For more info on the artists / tracks, klick «info» and then the artist name in the player.
Enjoy, and feel free to share the playlist with your friends!

CCAP - NEW TRACKS 2011 by CCAP